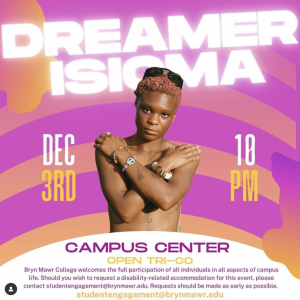 Social Media(s):
Instagram : @bmconcertseries.
Description:
We work with Traditions, Social Committee, and Student Engagement to hire the annual May Day performer(s), as well as hosting other artists and DJs for concerts throughout the semester.
Accomplishments/Events:
In Fall 2022, we facilitated a performance by rising pop arist Dreamer Isioma and their band The Celestials, which was open to the Tri-Co.
Goals:
We plan to continue holding more concerts at Bryn Mawr and to continue collaborating with FUCS and Swarthmore Concert Series to host more events!